Participating Institutions
pSCANNER integrates existing networks and surrounding health systems:
VA Informatics and Computing Infrastructure (VINCI)
VINCI is a major informatics initiative of the Veterans Health Administration (VHA) that provides a secure, central platform for performing research and supporting clinical operation activities.  VINCI patient-level data remain behind VA firewalls; however, patient data will be available for consultation through privacy-preserving distributed computing methodology used in pSCANNER.
University of California Research Exchange (UC ReX)
UC ReX was established in 2010 and has been funded by the University of California Office of the President since 2011 through the UC-Biomedical Research Acceleration, Integration, and Development (UC-BRAID) Initiative.  UC ReX is also supported by the NIH Clinical Translational Science Awards from five UC Health Systems (UC Davis, Irvine, Los Angeles, San Francisco, and San Diego).  UC ReX has EHR data for over 12 million patients and will make these data available through distributed computing in pSCANNER.
SCAlable National Network for Effectiveness Research (SCANNER)
SCANNER was established late 2010 with AHRQ funds for the Distributed Research Networks (DRN) Program.  SCANNER developed a comprehensive service-oriented framework for mapping policy requirements into network software and data operations.  Data from some of SCANNER's original partners—UCSD, VA TVHS, AltaMed, QueensCare Health Centers, and The Children's Clinic of Long Beach—will be available for pSCANNER.
Cedars-Sinai Medical Center, situated in Los Angeles, is one of the largest academic medical centers in the western United States. Keck Medicine is USC's medical enterprise. Los Angeles County Department of Health Services is the second largest public health care system in the nation with a net-work of 19 community-based clinics and four hospitals. San Mateo Medical Center is a public hospital and clinic system that operates eight outpatient clinics throughout San Mateo County.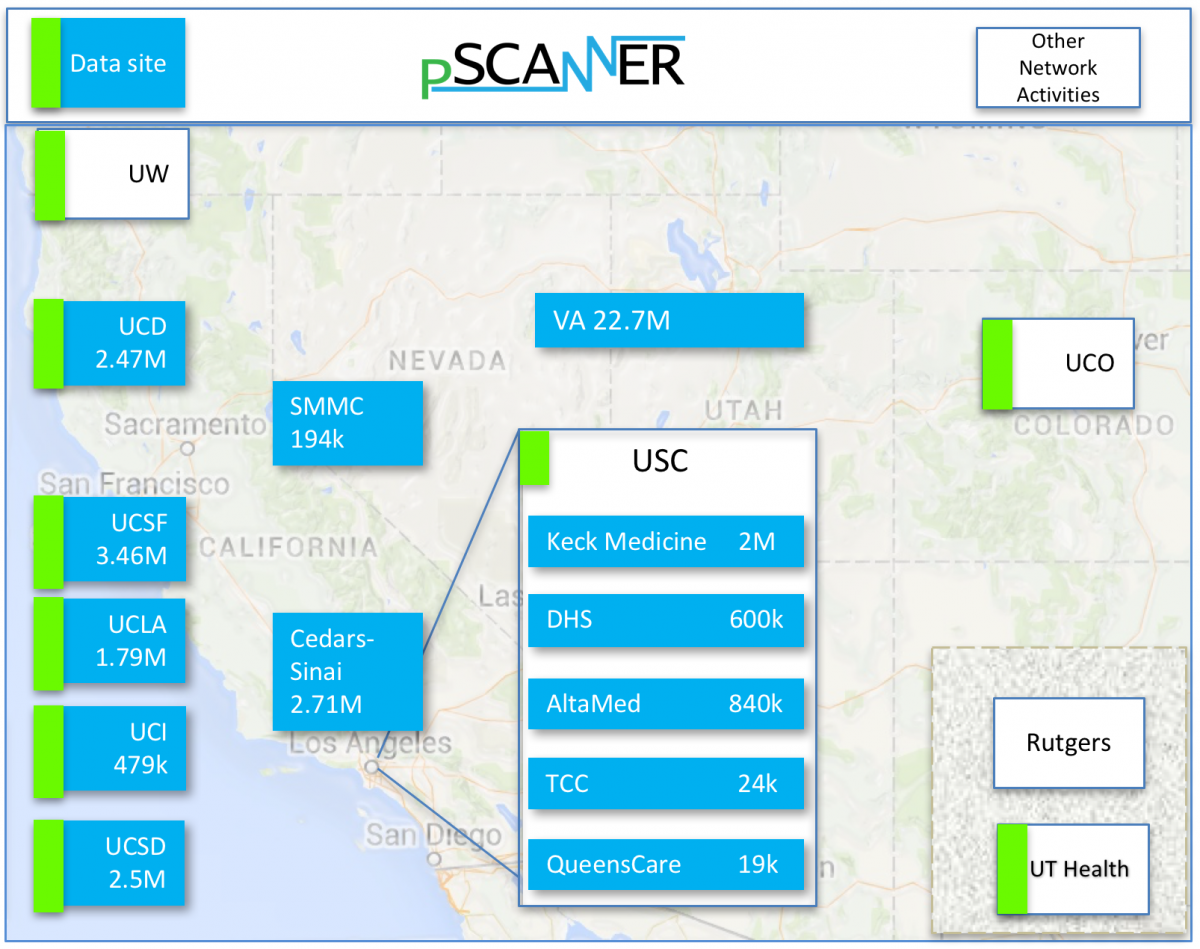 Fig. 1: pSCANNER is a federated clinical data research network that aims to make health data more accessible and usable. Number of patients from data sites is shown. k, thousand; M, million
Participating institutions: UCD, University of California, Davis; UCSF, University of California, San Francisco; UCLA, University of California, Los Angeles; UCI, University of California, Irvine; UCSD, University of California, San Diego; SMMC, San Mateo Medical Center; Cedars-Sinai, Cedars-Sinai Medical Center; VA, Veteran's Affairs (including Tennessee and Salt Lake City); USC, University of Southern California; Keck Medicine, Keck Medicine of USC; DHS, LA County Department of Health Services; AltaMed, AltaMed Health Services; TCC, The Children's Clinic of Long Beach; QueensCare, QueensCare Health Centers; UW, University of Washington (health communication and stakeholder engagement); UCO, University of Colorado, Denver (data quality, identity management); Rutgers, Rutgers University (distributed analysis); UT Health, University of Texas Health Sciences, Houston (NLP)